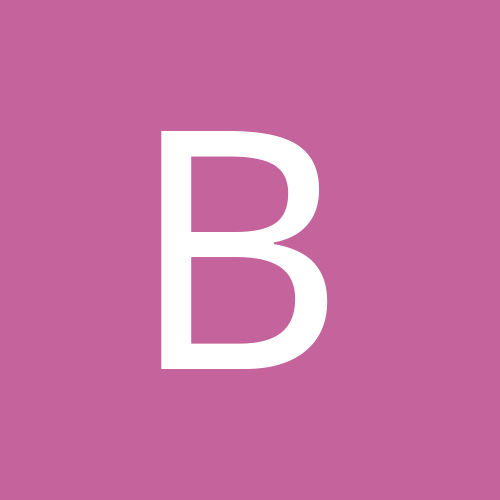 BillyIdol
Validated Members
Content count

169

Joined

Last visited

Never
Haha 60 fine musicians? I'm sure there are some good players in their band but a senior-less class will undoubtedly hurt more than help in that first year. It, however, will help the overall strength of their juniors and seniors in the 2009 season a great deal more. I'd expect more in 2009 and 2010. Who is their director and how much of their marching band ideas are outsourced?

BillyIdol posted a topic in General

I'm waiting for a day (if it hasn't happened already) that a high school literally hires college-aged drum corps talent so that they can compete and win at BOA. I think it'd be cool if Chaminade Julienne for example came out of 90th place to rock the dome and take the Eagle. Now that's what band is all about.

BillyIdol replied to DesignedForBand's topic in General

One thing's for sure.. Marian needs to go with programming that sticks out. This past year's show did conceptually, but performance-wise the past two years most certainly were ordinary, in comparison with BOA Grand National Finalists. At least in 2003 and 2004 when their shows placed I believe 10th and 8th at BOA respectively, their ensemble sound and show concept/combinations etc. stood out. Hopefully these selections accomplish this for them.

If you don't mind me asking, why no BOA for Morton this year? Louisville Male and Lake Central.

Hmmmm, interesting. Surf is a great corps, but this poll is asking about Div 1. I don't follow drum corps. I just took a guess.

In the end, a band is only as good as its staff.

Meh. I don't really see these as big nasty arguments, it's more like the board is becoming more "honest" as time goes on. Frankly, that's what the state of Illinois needs. We're far behind other states in terms of marching band, and realizing that is the first step, and then being honest about what's good and who's really doing difficult shows and performing them well is important too. I realize that everybody that steps out on that field deserves a big round of applause, and I would never rip anybody for being in band, but there's nothing wrong with admitting that some programs are more serious than others...in their show selection, show difficulty, show performance, and overall goals. It's just honesty, and definately needed in some instances. This is nothing new. The only saving grace on a national level were the years when Lake Park and Marian Catholic were making and placing high at BOA National Finals. Lincoln-Way and Prospect filled in that second-tier nicely as well. I think there is a sense of greed here to be the very best. At the very top level of the marching activity. Maybe some new (or more established) groups emerge as things stand, but I have a hard time believing that a structured system (like ISSMA or UIL) will produce greater band performances. I think many sell the state short in terms of overall quality. The performance levels appear to have risen collectively over the past several years. Granted, if you compare the raw numbers, there is little for Illinois to hang their hat on with regards to the national scene. But don't let that take away from the parity that now exists. It wasn't all that long ago where there were 10-15 point gaps between placements at ISU Finals. Now, it's maybe 15 points between 10th and first. It appears that Bands of America is choosing to go another direction programming-wise. Their overall product has risen to such a level that a band like Marian Catholic now appears less-than-competitive for a title. At least on paper. If you compare other Illinois schools like Lake Park , Prospect or Lincoln-Way East, regionally, those groups stack up. And if I may defend Marian Catholic for a moment, they are comfortably in finals every year. Whether they rise or fall in finals can leave room for debate on where they stand in the grand scheme, but in today's BOA world, to remain in the conversation (Top 12) is nothing to sneeze at. So, Illinois is not an 'elite' state for marching band. Big deal. The individual programs, not the state, are responsible for their respective legacies.

Isn't MC already insane with amounts of practice? Aren't they also competing mostly with Texas, who has anti-practice laws or something? I don't think they do the insane practice bit. Can't imagine things have changed that much since I was there. We did a couple sectionals per week, one full band rehearsal for 2.5 hours and a period during the day (as a class). And 8 hour Saturdays during the season when not competing. I assume they still do two shows (one for football and one for competitive BOA) and probably don't really begin their major prep until August. COrrect me if I'm wrong here, but my feeling is if they ever really went after it on a given year like many of the bands they compete with, they'd likely be much higher. That's how it was when I was there and I'm sure that's how it is now. It's not about the competition/awards to them. The overall formula has worked for a long time. I'm just wondering for the sake of wondering whether or not maybe this should be somewhat altered to better fit the heightening level of competition the band faces at BOA now.

MusicDesign, You may want to consider an eye examination. The board has not devolved into a free-for-all and if it were to, I believe that such a thing would not get as ugly as I've seen other places. This isn't rec.arts.marching.band-high school. Now, many times that was a very ugly board. If you're familiar, you'd agree with me. Reading over your posting history, it seems that you haven't shyed away from mixing it up either. For example, in a recent thread you decided to go after a person for his possible affiliation with a program. What would be the point of doing that? You also make the assumption that people who have 'NO credentials' that comment are in some way inferior to those who 'DO have credentials'. Wow, are we really talking about marching band here? All you have to do is involve yourself in a high school music program, pay attention, graduate and observe to understand what this is. This isn't molecular science. This is marching band. They're either playing in tune or out of tune, in step or out-of-step, etc. It's pretty clear. Too many people involved in fine arts who are oversensitive to anything possibly resembling criticism or negativity.. or positiveness regarding one's bands or the like. It's like you don't think that others who read this stuff have the self-confidence to be able to determine whether their experience was good or whether the comments of the people who DO and DO NOT have the credentials you speak of are valid or helpful. You are certainly entitled to your opinion, but I happen to think it's a poorly based one.

You're correct on one thing. This post is not about the scores/placement. It is about the performance. Whether Marian scores or places in a particular slot is not my point. I'll assume that you did not read any of my subsequent replies or are choosing to ignore them altogether. If this were about the scores or the placements, I could have posted such a thing last year or the year before or the year before that. I was in one of the handful of classes that was fortunate enough to perform at a level that few others could attain. I recognize that many bands are improved and that BOA is turning less into a marching band circuit and more into a WGI thing. I recognize that Marian Catholic's shows, in general, do not tend to fit with the current direction of BOA programming. And I will never fault them for not choosing to go that direction. They've been able to maintain by doing their own thing. Great. I give the staff credit for attempting to reshape and grow the program, while remaining viable on the national level. I believe that they give the tools for the students to be successful both on and off the field every year. The Marian kids and their BOA experience are all well and good. Any time a band gets to perform three times at the national show, it is an achievement. I think sugarcoating only goes so far. Maybe this band just wasn't as talented because of a massive exodus of upperclassmen prior to the season. If that's the case, it affected the product. If that's the case, it's understandable. If that's the case, I can sympathize with the staff and some of the younger students. But I don't think that anyone at Marian is interested in offering up excuses. Their placement is deserved but even a reasonable person has to wonder whether or not more practice time and/or organizational changes may be necessary so that the group can continue to compete at the highest level. The BOA experience does not change but the participants in finals do. Here's to hoping that next year brings a more true representation of who Marian Catholic is. If this is evolution, maybe taking two steps back before moving two steps forward is necessary. But that doesn't mean that, in taking two steps back, honest evaluation or criticism is not helpful.

No disagreement here. I saw a whole 4 bands on Saturday, so I'm not doing a direct comparison with anyone. Just goes to show that BOA has turned into a truly unpredictable event because of the high-level of performances across-the-board.

I support them, but to turn a blind-eye to things from a performance perspective is not being intellectually honest. I know that the level of BOA finalists has increased a great deal over the past few years. I'm not taking a shot at the staff. In fact, in semifinals they were within a point of 4th place. The overall experience should be what is most important, but it was rather disappointing to see their season end like that. They could've placed 5th or 6th and I would've felt the same way. Making finals is still an accomplishment and they deserve credit for achieving a high enough level to perform three times. That's all.